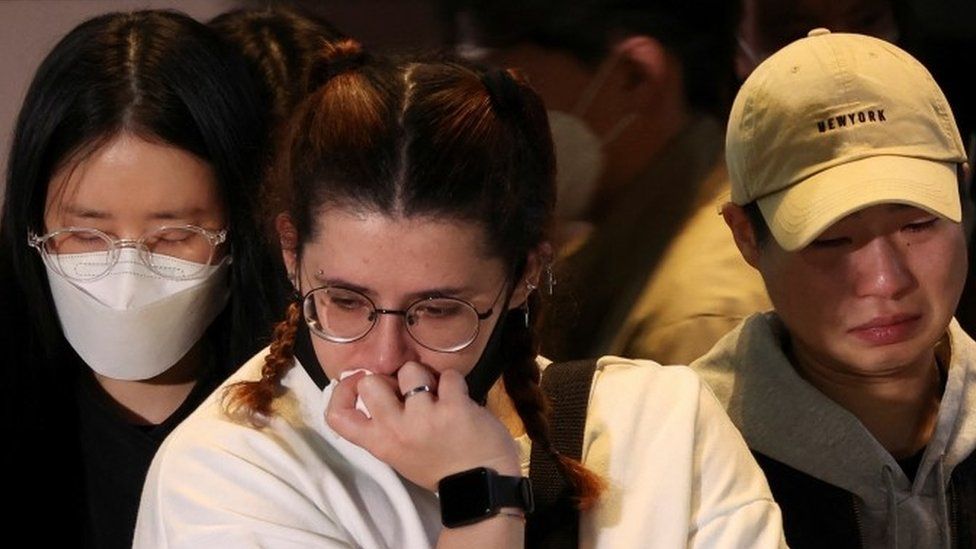 At least 154 people are known to have died in Saturday's tragic Halloween crush in a popular nightlife district of the South Korean capital, Seoul.
Most of the victims were in their 20s and there were more women among the dead than men. Officials say there are 26 foreign nationals among the deceased.
Six students who were at school in Seoul were killed, as well as three teachers and three members of the South Korean armed forces, the country's Education and Defence ministries said.
These are the names and faces of some of those who died, as tributes to them began to emerge.
Actor Lee Jihan, 24
Korean actor Lee Jihan was among the victims of the Halloween crush on Saturday night.
The 24-year-old became known to the public after competing in the K-pop talent reality show "Produce 101" Season 2. Following this, he pursued a career in acting and appeared in the web drama "Today Was Another Nam Hyun Day".
Fans of the actor paid tribute to him on an Instagram account.
The actor's agency 935 Entertainment confirmed his death in a statement on Sunday, paying tribute to the "lovely and warm friend to everyone" who was a "bright and pure person who always greeted everyone with a smile".
In a statement published on its Instagram and Twitter accounts, the company said he "left us too soon".
Choi Boseong, 24
Choi Boseong was in central Seoul to celebrate his birthday when the tragedy happened.
His girlfriend Gabriela Pare, who lives in the US, was alerted to his disappearance by friends who found his jacket and mobile phone at the scene of the tragedy.
"Thank you all for your thoughts and prayers. They sadly passed away. There are no words for the pain I'm going through right now," she said in a later tweet on hearing news of his death.
Aspiring fashion designer Rhau, 21
At a public memorial to the dead in Seoul, 19-year-old Kim Dae-hui came to lay a flower for his friend Rhau, who died on Saturday night.
Rhau had called Kim from the crowded alleyway as he was being crushed. He told Kim he was trying to save the woman next to him. Suddenly, he had to hang up. The woman's hand had turned cold, he said.
That was the last Kim heard.
The next morning, he saw his friend in one of the videos being shared on social media. He looked pale and distressed. Hours later Kim got the call to say his friend had died.
Rhau was 21. He moved to Seoul from Malaysia in January last year and the pair instantly became good friends.
Kim said Rhau worked in construction but dreamed of having a creative job one day, hopefully as a fashion designer. However, for the moment he had been focused on supporting his family back home.
Australian film producer Grace Rached, 23
Australian authorities have confirmed Sydney woman Grace Rached, who would have celebrated her 24th birthday next month, was among those killed.
In a statement, her family described her as a "gorgeous angel" and the "life of the party".
"Grace always made others feel important and her kindness left an impression on everyone she ever met," they said. "She cared deeply about her two sisters and was a wonderful role model."
Colleagues and friends have also paid tribute to the film producer.
"Grace was a fun, friendly, kind-hearted and passionate individual who loved to make films and make people laugh," Shahn Devendran told Australian newspaper The Sydney Morning Herald.
"This is truly devastating news."
Steven Blesi, 20
"I know you're out and about. Be safe."
That was the last text Steve Blesi sent to his son, also called Steven – who was one of the two Americans who died in the Halloween celebration in Itaewon.
Mr Blesi had first made an appeal on Twitter on Sunday, calling on anyone who had news of his son.
Hours later, he confirmed on the social media platform that his son had died.
"It was like your world just collapsing. It was numb and devastating all at the same time," Mr Blesi said of his reaction when he heard the news, speaking to the New York Times.
He told the news outlet that his son had been waiting for years for an opportunity to study abroad, and had been learning Korean. He had gone to Itaewon with a group of friends as they had all just finished their midterm exams and were looking to have a night of fun.
Steven Blesi had been studying international business at Kennesaw State University in Georgia.
Anne Gieske, 20
University of Kentucky student Anne Gieske had been spending the autumn semester of her nursing degree in Seoul.
She set up a special Instagram account for the trip, and had just posted a picture of her celebrating her 20th birthday.
Her father, Dan, described her as a "bright light loved by all". He told NBC News the family was "completely devastated and heartbroken" by their loss.
CBS quoted the university's Korean Language and Culture Club as saying she was a "very kind and outgoing person".
Tomikawa Mei, 26
Tomikawa Mei, from Hokkaido in northern Japan, had been studying Korean when she died.
Her father told the Japanese network NHK that he was informed of her death on Sunday by officials. A policeman had picked up her phone when he tried to call her on the evening of the tragedy.
"I tried calling her to warn her to be careful, but she never answered her phone," NHK quoted him as saying. "She was a great daughter … I want to see my daughter as soon as possible."
He has gone to South Korea to identify his daughter's body.
Madina Sherniyazova, 26
Madina Sherniyazova, from the city of Aktobe in Kazakhstan, was studying for a Master's degree at a Seoul University.
The deputy head of her secondary school in Aktobe said she was a bright student and a natural linguist. She majored in Korean at Kazan University in Russia.
Her mother told Kazakh media she contacted her sister by video link shortly before the tragedy, saying she was with friends and in a festive mood.