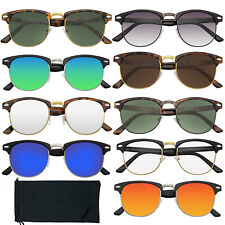 Price: 997 USD
Mens Sunglasses Womens Sunglasses Vintage Retro Sunglasses Half Frame Men Women




                        
Mens Sunglasses Womens Sunglasses 

Vintage Retro Sunglasses Men Women

 

Classic and modern meet, half frame semi-rimless horned rim sunglasses. These frames feature reflective mirrored blue, green and silver lenses. Vintage inspired semi rimless sunglasses that feature an eye-catching mirrored flash lens. True to its original design, this pair of half frame is truly an iconic legend. It is one of the best selling and most famous styles in the world. This item features metal hinges; English style nose piece and a full mirror polycarbonate 100% UV high impact-resistant protected lenses. Make a Statement in these shades!

SPECS:
USA: ANSI Z80.3
EU: CE Certified
AU: Category 3; 8-17% VLT
Drop Ball Certified: Military Standard
FDA Registration Number: 3013407178

Ultraviolet Light (UV) Protection – UV 400 both UVA and UVB radiation. Blocking light rays as small as 400 nanometers. This means that anywhere from 99 to 100 percent of the sun's harmful radiation is kept away from the eyes.

Visible Light Transmission (VLT) – This measures how much light your sunglass lens lets through. VLT of 1% means very dark lenses and a VLT of 100% means very light lenses.

Lens Width: 49mm
Nose Bridge: 18mm
Lens Height: 42mm
Total Width: 140mm




 

About Emblem Eyewear:


As an ever-evolving retailer and promoter of online fashion eyewear, we aim to provide the latest styles and trends in sunglasses; including designer inspired, trendy, retro and mirrored sunglasses. Shop Emblem Eyewear! 



Customer Service:


We are committed to providing exceptional customer service to meet all of your needs. All of your questions will be answered within 24 hours, Monday Sunday excluding Major US Holidays. We ask that before you open a case or leave feedback you come to us so we can rectify the  situation and make you happy. 





Money Back Guarantee:




We offer a full 60 day 100% customer satisfaction money back guarantee for all our products sold at Emblem Eyewear. Shop with confidence! 


Free Shipping:


We offer free shipping on all orders within the U.S. Packages are processed and shipped within 24 hours after payment is completed. Tracking information is available for all U.S and International orders. All items are shipped with a brown, durable box to ensure it arrives safely.





International Shipping:




Shipping can take up to 30 days depending on Customs. Shipments are sent USPS First Class mail. There may be additional Customs charges in your country. Please check them before ordering. If you do not see your country listed, we currently cannot ship to you. If you have any additional questions regarding international shipping, please contact us before placing your order.

Make a Statement:


Share your awesome new shades with your friends on social media! Each pair of sunglasses has its own hashtag so don't forget to tag them! Follow Emblem Eyewear to keep track of upcoming contests and giveaways. Be creative, be you, and make a statement with Emblem Eyewear.